STONE SOUP LEADERSHIP INSTITUTE
The Stone Soup Leadership Institute is a global leader in designing sustainable workforce development initiatives that prepare multicultural youth to accelerate the development of "21st Century Skills" vital for today's jobs. The Institute's multi-faceted educational tools include the book and curriculum: Stone Soup for the World: Life-Changing Stories of Everyday Heroes. The Institute's TouchStone Leaders scales up 20 years of real-world experience and offers high touch/high tech dynamic e-learning opportunities, smart tools, train-the trainer facilitator program and an interactive online community building the Sustainable Workforce Development Network.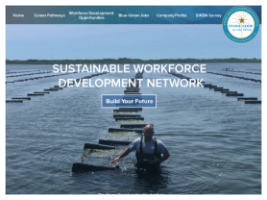 Design-A-Thon for the Blue Economy
Through the Institute's 15 years of research we've found young adults have really struggled to find links between blue-green jobs and much needed workforce development opportunities like internships, mentors and on-the-job training. In June, the Institute held a Design-A-Thon for the Blue Economy at Innovate Newport in conjunction with the Institute's Summit on the Blue Economy. We brought together leaders of the Blue Economy in New England – from CEOs, to Newport's Mayor and academic institutions to engage in a deep exploration to shape the design of the Institute's Sustainable Workforce Development Network (SWDN). The key takeaway of the Design-A-Thon was the major increase of jobs in the emerging Blue Economy and lack of information available to young people about these jobs which prevents them from pursuing blue career pathways.
VIDEO: SUSTAINABLE WORKFORCE DEVELOPMENT
It was enlightening for me to learn how disconnected our youth in our region are from our local industry. We have an absolute opportunity for Chambers of Commerce, working with local professional associations and organizations (i.e. From Blue Tech) and local government business development agencies, to engage united in an educational career and workforce development outreach program with our High Schools and Higher Ed Institutions. Students have high aspirations, helping them recognize and identify paths knowing what local industry and government incentive programs are, can offer them the opportunity to help them develop their dreams and ultimately ignite local communities with much needed solutions to local challenges. Blue Tech represents roughly 75% of the Earth footprint. Imagine what we can accomplish if we could develop the missing 50% capacity to address our Blue Tech promise and challenges. I look forward to staying engaged and helping this great workforce development initiative.
Anthony Baro, PowerDocks LLC. 
• Anthony Baro, PowerDocks LLC
• Jamie Bova, Mayor of Newport
• Bridget Burger, Cape Cod STEM Network
• Hugh Dunn, SouthCoast Development Partnership
• Robert Rak, Bristol Community College
• Toby Stapleton, Salve Regina University
• Keith Stokes, WindWinRI
• Kersey Sturdivant, Inspire Environmental